Disability Help and Information and Support
To have a view on things that may concern you or even seeking help can be a nightmare especially when you haven't got a platform to voice your opinion. Here in this page you have that opportunity to do just that, you well be able to ask, get, or even give your opinion, or tell the experience you have had, by doing this, it my help others. One of the ways this can be done by emailing us, and in not time you will be able to see it posted.

From Gini;
I have a disabled friend who's in a wheelchair, this past day's wave being trying to go to the beach and there is no wheelchair access. And I was thinking if anyone could give me any information on how to gain access to the beach in a wheelchair with no problems. Can anyone help!
Hi Gini;
Access to the beach has its problems I can only see one way to gain access, that if a beach wheelchair is use, I have put a link on the photo click on it, maybe that will give you a idea.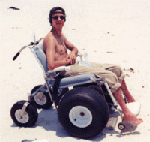 From Emma;
My parents are coming to stay next month and my father is in a wheelchair. I'm looking for somewhere I can hire or buy a raised seat for the toilet, he has one that just clicks onto their normal toilet seat at home, but it's a bit cumbersome to bring on a flight. Does anyone have any ideas?
Hi Emma;
I made one or two inquiries and I found that the Red Cross do provide the seat for the toilet you're looking for. I called them about your needs and they are willing to provide it to you. They don't charge anything, but a donation I think is gratefully accepted Call; Mrs finlayson on 00350+ 20074452.
From Ken;
Hi I like the new site, a lot of work must have go into it. The streaming cam is super. I have got some of friends to stand in front of it. Do you know where it will be moved to. I come to Gib many times a year and I stay at the Eliott. Is there a company I can hire a scooter from and keep it at the Eliott for the time of my stay. My best regards Ken.
Hi ken;
We are happy that the cam works for you; we are still trying to make it a smoother stream so to provide a better service, If your friends will like to stand were the cam is be my guest, it will be a joy to see. The cam will be moved within the area it's in, but if you look on our website menu you will see that we have the piazza cam, that cam is located in the center of town.
You ask if there are any company that can help you out with a scooter, Well yes, you have two options; the first option is Shop Mobility and information can be seen on our website menu, Shop Mobility opening hours are as follows, 9.30am to 1.00pm and 2.00pm to 5.30pm tel; 00350+ 20079898 you can get the scooter from 9.30am but must be back at closing time, but maybe you are thinking of haven the scooter the 24 hours of the day, option two will be your best option, and that is the Red Cross, the Red Cross provide many things for anyone whom may need equipment. They don't charge anything, but a donation I think is gratefully accepted. You can phone Mrs Finlayson on 00350+ 20074452. Am I am sure they will help you out. You can also try out Mobility Care Centre and ask if they can help out, they are very helpful, Website Link
From Sue;
Hi to the wonderful people in Gibraltar, I have been viewing your webcam for quite a few weeks now and the cam that is available today is not working for me. It is on a smaller screen than usual and all, I get is a black screen. The one that i normally view is on a larger screen and though sometimes the movements are lagged slightly it was at least working. Also the penguin and shark cam isn't working for me. Thank you for giving me this opportunity to respond to you and for the web cams as it gives me an opportunity to see a good friend of mine from afar. Also I have read through the website and have found it very interesting as it is good what other countries are like and it would also be helpful for the people in your own country.
Hi Sue;
Over the past weeks we have been trying out new webcam setup so to make the webcam setup better, We have not been very happy with the cam and we been working on finding a software that will give us get a better stream. Some of have been enjoying the setup but we think we can do better we hope that in no time we will have a better webcam setup for all to enjoy.
Put your points of view now!
You will be able to put points of view ask for Help and Information and Support, anything which may concern you have them published On this website.